CASA QUARTÉIS, LISBOA
No lote existente havia um pequeno edifício de dois pisos, que antigamente albergou duas unidades habitacionais, sem qualidade construtiva, material e espacial. O projecto teve como premissa inicial a demolição total do edifício existente e a sua substituição por um novo, com a mesma implantação e nova volumetria, tirando partido da média das alturas da rua. No lote desenvolveu-se uma casa unifamilar em altura, libertando o térreo para uma garagem privativa e arrumos, tirando partido nos pisos superiores não só de luz e vistas, mas também da privacidade necessária nos pisos de programa vivencial. No primeiro andar dispôs-se a zona privada dos quartos, no segundo andar, piso intermédio, organiza-se a cozinha e a sala de jantar e, no último andar, uma ampla sala de estar privilegia de uma franca vista para o rio. A casa tem orientação solar Este-Sul e destina-se a morada de uma família.
In the existing plot there was a small two-storey building, which before housed two housing units, without constructive, material and spatial quality . The project initial premise was the total demolition of the existing building and its replacement by a new one, with the same implantation and new volume, taking advantage of the average height of the street. In the plot a single-family house was developed in height, freeing the ground floor for a private garage and storage, taking advantage on the upper floors of light and views, but also the necessary privacy for the living areas. On the first floor there is the private area of the bedrooms, on the second floor, the middle floor, there is located the kitchen and the dining room and, on the top floor, a large living room with particular views over the river. The house is East-South solar oriented and is intended for a family.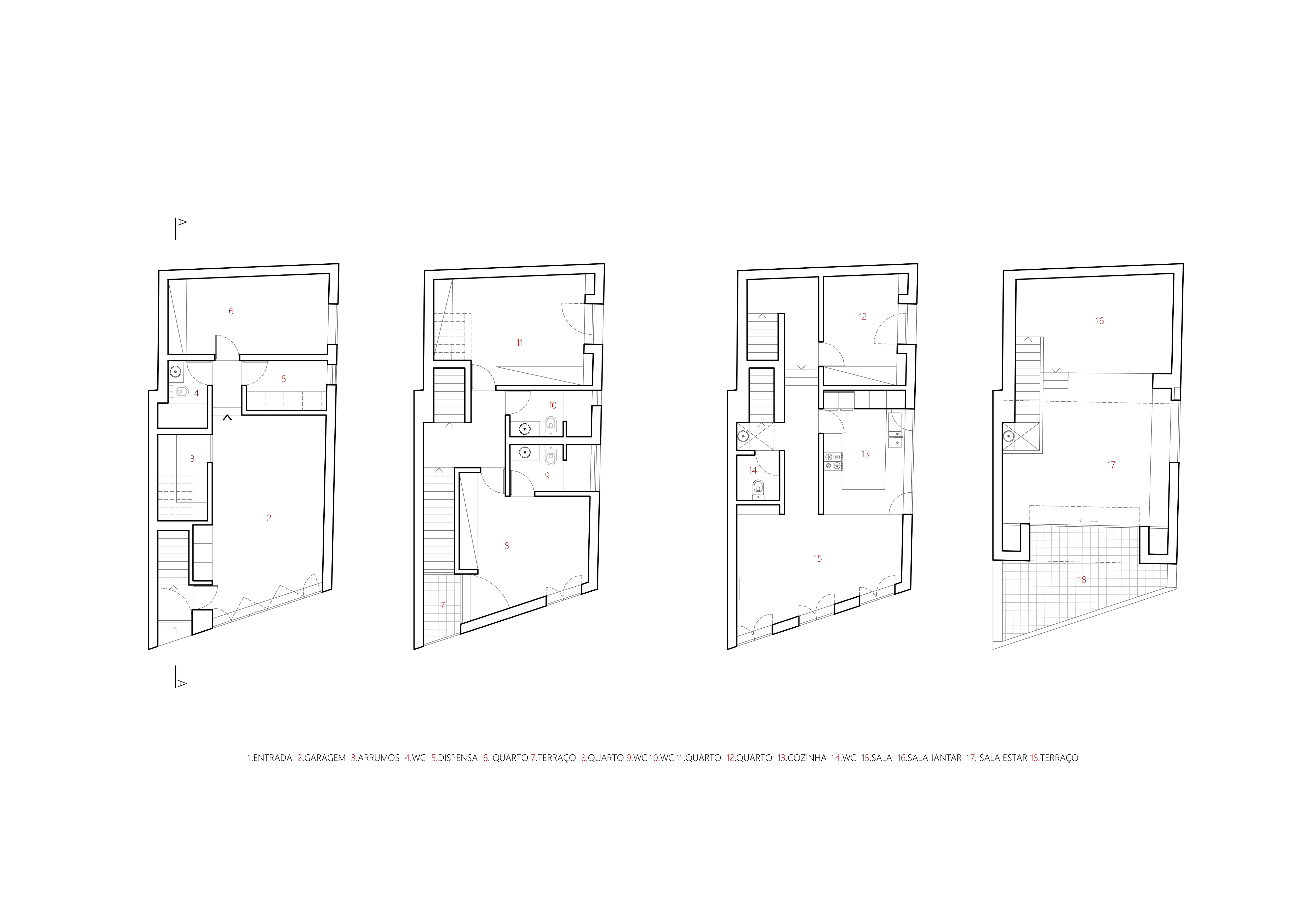 construção nova new construction
cliente privado private client
construído 2021
built 2021
fotografia
photography